Case studies – Sporting or artistic funding
The people given financial grants by the Trust have talents and ambitions that we helped fulfil. Apply for support and this could be you.
Here are some of their stories:
Walker is a runaway success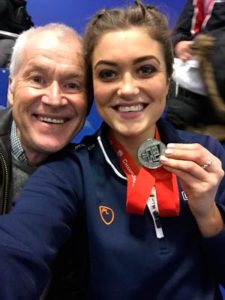 Olivia Walker should know a winner when she sees one – she's one herself!
Athlete and student Olivia has represented England in the hurdles at under 17 and under 20 levels at both indoors (60 metres), and outdoors (100 metres).
Olivia won medals at the British Universities' Championships and the Northern Championships and the Trust has been there supporting her achievements.
"I am currently at Durham University and travel to Gateshead 5 or 6 times a week for training," explained Olivia.
"I was looking for extra financial support for travel, training and kit as my competitions are mainly in Sheffield, Loughborough and Bedford and require overnight accommodation as well as the travel costs involved."
Fortunately Olivia's mum worked for Transrail Freight a pre-privatisation rail freight company and then the English, Welsh and Scottish Railway.
"A colleague of my mum's told her about the Trust, so I applied and got a response immediately advising me of the timescales involved. Throughout the process the Trust has been very supportive and kept me well informed."
Having the Trust's support has made a big difference to Olivia, especially when she faced time out after injury.
"In September 2015 I fell at training and broke the scaphoid bone in my wrist which required surgery and an overnight stay in hospital.
"I was able to get straight back into training by changing my programme and using different training facilities, thanks to the grant.
"Then to speed my recovery in preparation for the indoor season I was able to have regular sessions with a chiropractor which has made an enormous difference to me.
"I would certainly encourage others to apply. Without the trust's support I would have been unable to put myself in a position to compete to my full potential.
Olivia plans to be a Primary School Teacher and is hoping to teach in Cardiff where her coach is now based.