Case studies – Exceptional Contribution Award
Do you meet the criteria for the Exceptional Contribution Award?
Researching intracerebral haemorrhage and cholesterol levels in relation to stroke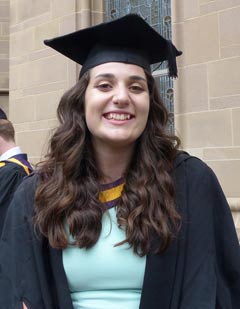 Sarah Withers is working towards her PhD at the University of Manchester supported by the EWS Educational Trust.
Her project is focused around intracerebral haemorrhage, a type of stroke caused when a blood vessel in the brain becomes weak and bursts allowing blood, which contains components that are toxic to delicate brain tissue, to damage the affected part of the brain.
Currently, there are no specific medications to combat this condition, which is why research in this field is paramount. Haemorrhagic stroke is also the deadliest, where 40 percent of patients die within one month after the bleed, and survivors often face varying levels of disability.
Her second research aim is looking at cholesterol levels in relation to stroke. Her lab is aiming to challenge the central dogma which surrounds cholesterol levels and stroke and heart attacks.
Several recent clinical studies have shown concrete evidence that people with low cholesterol levels are at a higher risk from suffering from a haemorrhagic stroke.
Sarah is interested in understanding the role of cholesterol and why a reduction can cause this.
By formulating a link between low cholesterol levels and haemorrhagic stroke, it will become an independent risk factor, which can be flagged up in clinic and recognised as other readily accepted risk factors for haemorrhage, such as high blood pressure.
Sarah says working towards a PhD is challenging and would encourage others to apply for an EWS Educational Trust Exceptional Contribution grant to help reduce worry.
She said: "A PhD is such a stressful time, without even considering the financial aspect, and so I am extremely grateful to be have been awarded the Exceptional Contribution award, which enables me to focus on my research and getting it well recognised within the stroke field.
"The award has enabled me to travel to conferences, both at home and internationally. Thanks to the trust I was able to travel to Granada to present my work at the world intracerebral haemorrhage meeting in 2019 and this year I will travel to Munich to present my work at a stroke immunology meeting."
Sarah heard about the Trust from her father, who worked for EWS.  She first received an educational grant while studying for her undergraduate degree – a BSc (Hons) in pharmacology with an industrial placement at the University of Manchester.
The use of single use plastics in agriculture and how this can be reduced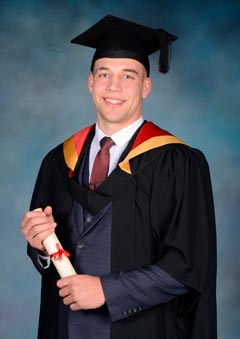 Samuel Cusworth has been supported by the EWS Educational Trust throughout his last five years in university, culminating in the receipt in 2019 of the Trust's Exceptional Contribution Award for his PhD, which is in Environmental Science.
His research, which he is undertaking at Lancaster University, focuses on the use of single use plastics in agriculture and how this can be reduced. He is doing this with his industrial partner, Waitrose.
His first chapter of his PhD includes a first of its kind study to determine the concentration of microplastics in agricultural soils across the UK.
His second will compare the current use of plastics to a scenario where no plastic is used in the agricultural sector.
This will determine the importance of plastic use in UK agriculture and the environmental effects of doing so under each scenario. Both chapters will help form the focus of his research in the following years.
Samuel heard about the EWS Educational Trust through his father while studying for his BSc in Physical Geography at Lancaster University. It was thanks to his father's career in rail freight as a train driver for DB Cargo that Samuel was able to meet a key element of the Trust's criteria for consideration.
Samuel completed his dissertation at Lancaster in partnership with the Lake District National Park and and continued to study at Lancaster for his MSc in Environmental Management, producing his dissertation in partnership with Natural England.
Samuel is very grateful for the Trust's awards. He said: "The financial support given me by the Trust is invaluable. Without it I would not have had access to the opportunities I have been granted over my past 5 years at university.
"It has taken the stress of the financial burden of university away from me, allowing me to concentrate fully on my studies.
"It has granted me access to equipment and field trips to study centres, which have helped me develop my knowledge in my field of research. This year it has enabled me to take part in a conference based in Cambridge with the British Antarctic Survey (BAS) to discuss the problems that microplastics cause in our environment.
"I would urge any other prospective student to apply for the EWS Educational Trust as it has been incredibly beneficial for myself and my brother, who has also been a successful applicant to the Trust."
How human behaviour influences natural disasters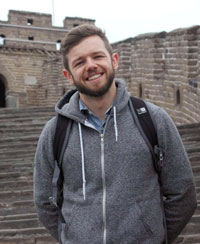 Thomas knew of the Exceptional Contribution Award having previously received funding from the Trust towards his MSc in Geophysics from University College London in 2011.
Thomas, whose relative connection, Jonathan, previously worked for DB cargo, is now undertaking his PhD research in Complex Geographic Systems Analysis at the University of Bristol, with Kyoto and Vrije University Amsterdam supporting in an advisory capacity.
Thomas's research is an inter-disciplinary project working closely across the departments of Geography and Engineering. He started his PhD in 2017 and will take 4 years to complete.
The purpose of Thomas's research is to develop a new scientific model with a view to providing a freely available tool for improved understanding and identification of the ways in which human behaviour determines the outcome of natural disasters, and vice-versa, in a simple yet accurate format.
Thomas's research is in response to the large-scale flooding that occurred in the north of England in December 2015 and the lack of national capability in deploying effective flood incident management during such events. Flooding is viewed as the hazard from which the UK is most 'at risk'.
As well as receiving funding from the Trust, Thomas also received a one-off stipend with the European Space Agency.
It is only through the support of the Trust that he can undertake this significant piece of research.
He said: "There is very little to no funding available for science and academia at large, due to financial cuts to these sectors. The Trust's funding takes on an essential role in promoting my own and other's exceptional developments at the very forefront of scientific research.
"Without the Trust's generous support there is no way my research could happen. I hope that there will be a point at which they will see the product of their essential support and understand the huge benefits it will have for people across the world."